Coffee Around the World: 10 Unique Ways Coffee is Served Abroad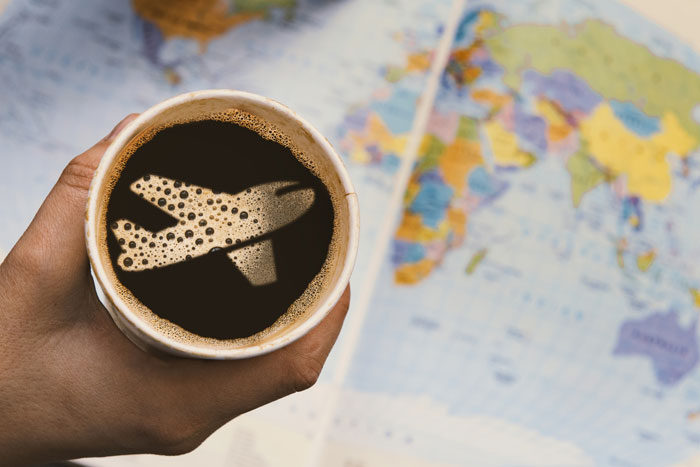 When it comes to daily caffeine consumption, 66 percent of Americans report drinking at least one coffee per day.
Here in America, the average joe prepares their drip coffee with four key ingredients: instant coffee, boiling water, sugar and milk or cream. While there's no denying the efficiency of American style coffee, there's much to be learned from the rest of the world.
If you're a self-professed caffeine addict, you're going to want to read this. We're documenting the ten most unique ways of serving coffee around the world. From Cuba and Turkey to France and Italy, we're refusing to leave any of the top caffeine destinations out!
1. Cafecito – Cuba
When it comes to the world's best coffee beans, Cuba is certainly one of the top countries that comes to mind.
That being said, it's no surprise that Cuba has a very particular way of enjoying their coffee. A "Cafecito" involves a shot of dark espresso that is brewed directly onto sugar.
While some choose to add milk, these caffeinated beverages are most typically enjoyed straight-up.
2. Turk Kahvesi – Turkey
A daily caffeine break in Turkey resists the urge to grab-and-go. Instead, it encourages each and every person to sit down and truly enjoy their break.
Turkish coffee is made with such finely ground coffee that it almost resembles a powder. Once ground, the coffee is combined with sugar, a variety of spices and boiling water. It's then presented in a small, ornate glass and served with Turkish Delight and water.
3. Espresso – Italy
Of course, it wouldn't be right to discuss a topic such as coffee without mentioning The Italians.
When in Italy, it's all about that espresso. And, let's not forget, it's important to note that there is a right way and a wrong way to order your espresso. It's simple: You shout, you stand to enjoy and you get out.
As rumor would have it, The Italians forgo ordering any sweetened beverages after 11 am to avoid any system disruption.
4. Cafe Bombon – Spain
For a Spanish take on coffee, it's all about the layers.
Cafe bombon is a layered caffeine drink that combines espresso with sweetened milk in a series of layers. First, the espresso is poured into the glass and followed by condensed milk. This creates two very distinct layers in the glass.
While the layers are typically combined prior to consumption, it's the difference in color that makes a cafe bombon so distinct.
5. Kaapi – South India
If you've yet to connect India with coffee, it's clear that you have yet to experience India at all. Here, it's safe to say that locals more than enjoy their daily caffeine breaks.
Indian coffee is known as "Kaapi"". Kaapi is based upon mixing frothed milk with a finely ground coffee powder. To serve, the coffee is placed in a steel tumbler that is meant to minimize the temperature of the coffee.
6. Flat White – Australia
Sure, a flat white style coffee might be served worldwide these days.
But, did you know that your beloved flat white actually originated in The Aussie Land? Considering its place of origin, it's safe to say there's no place better to enjoy a flat white than its birth country of Australia.
A flat white involves pouring foamed milk over a shot of espresso. As compared to a latte, a flat white has a higher ratio of coffee to milk. This allows it to be less creamy than a typical latte and more caffeine forward.
7. Cafe De Olla – Mexico
It is Mexico that is home to arguably one of the most enjoyable and unique coffee experiences. If you're interested in coffee with a twist, this one just might be for you.
Here in Mexico, black coffee is infused with notes of cinnamon and sometimes piloncillo. This produces a flavored coffee that is sweet and powerful but with an added kick. When served traditionally, cafe de olla is presented in a red clay mug and enjoyed with a dessert such as chocolate.
8. Cafe Au Lait – France
If you're looking to add a taste of French elegance to your daily coffee breaks, we present cafe au lait.
Plain and simple, cafe au lait involves serving a black coffee with warm milk on the side. Forgot the mixture, cafe au lait is all about slowly adding your hot, frothy milk as you please.
9. Frappe – Greece
For residents and tourists alike, enjoying a coffee in Greece typically means enjoying a Frappe. While this coffee beverage is popular year-round, it's especially popular in the summer months.
A Frappe is a mixture of instant coffee, water, sugar, and condensed milk. The most important aspect of the Frappe is to determine your level of sweetness. For those that like it sweet, it's best to opt for a "glykos" style Frappe that incorporates added sugar.
10. Fika – Sweden
When in Sweden, it's best to do as the Swedish do and get caffeinated!
Sweden happens to be one of the most caffeine-friendly countries in the world. In fact, Sweden is reported to be one of the top ten coffee-consuming nations in the world. Believe it or not, they place even higher on the coffee-consuming scale than the Italians!
In Sweden, it's all about pairing your coffee with a sweet dessert. Here, it's not so much about how the coffee is prepared but rather what it's paired with.
This is where the term "fika" was first introduced. It refers to taking a much-needed break to enjoy a cup of coffee and a sweetened pastry. For most Swedes, they enjoy their fika at 9 am or 3 pm.
A World Tour: Coffee Around the World
When traveling abroad and prying for a coffee break, it's only natural to keep a watchful eye for American-style cafes.
While a taste of home may be tempting at times, why not opt for a taste of culture instead? After all, partaking in a country's many food and drink customs is one of the best ways to experience that culture.
When it comes to serving coffee around the world, there's no one way to do it. From Italy and Turkey to Australia and Greece, it's safe to say that a cup of local coffee is a great way to explore a new culture.
Of course, a great cup of coffee doesn't always have to mean traveling to the other side of the world. Check out our tips on brewing the best possible coffee from the comfort of your own home.